Use tractorpool for safe and selling
At tractorpool, we already have various protection measures in place to ensure your digital security in our market presence. To protect you against phishing websites, we have also developed the tractorpool browser extension. Download our tractorpool security extension for your browser to protect you against phishing sites that we know of.

A red tractor symbol warns you of a phishing website; if the tractor shines green, you are on a safe, original tractorpool site.
You can find the extension for the browser Google Chrome here.
Mozilla Firefox users can find what they're looking for here.
Your digital security
Tractorpool provides you with somewhere for you as a dealer to meet with prospective buyers, establish contacts and enter purchase agreements. For your digital security and protection of your private data, we have extended our market to a highly secure trading platform. At tractorpool, we offer you an environment for you to trustingly deal in second hand vehicles.
To enable us to further enhance your digital security and protect your personal data even better, we require your support. Use these 8 tips to play safe!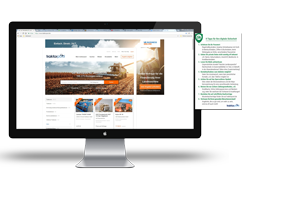 1. Protect your password using a creative
writing style
2. Don't disclose your personal data more
often than neccessary
3. Pay attention to errors and
inconsistencies in your emails
4. See whether there is any way of getting in
touch with the provider
5. Look out for the padlock symbol in the left
hand corner next to the browser address.
6. Use only secure payment methods and avoid advance payment
7. Insist on written purchase agreements
8. Go by your common sense